How Retail POS can Help You Compete with Big Box Stores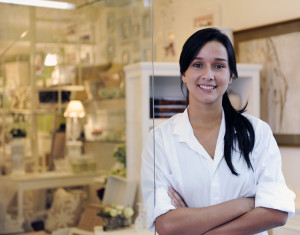 Small to mid-size retailers and chains face stiff competition from online sites and big box stores. It seems like small to mid-size retailers get hit from both sides:  online sites are competitive on price because they don't have the overhead of a brick-and-mortar retailer but big box stores compete on discounts and in-store experience.
You don't want to lose sales to big box retailers, especially as we start thinking about Black Friday and the holiday shopping season. November and December are the peak shopping months, so it's time to get ready. Even if you can't offer rock bottom prices, a retail POS gives you some tools that will attract shoppers.
Know your inventory: The very best retail POS system in the world can't help you if you don't have what people want. But the right retail POS system can tell you what you have in stock, what's selling out and what has been sitting on the shelves and is ready for markdown. Using this data you can re-set your shelves so the items that are selling themselves are front and center, while the items that have been hanging around get relegated to a different location.
Loyalty matters: Most retail POS systems have a loyalty plan function that allows shoppers to accrue points or special offers and coupons based on their purchase history. People are more likely to return to your store if you "reward" them for their repeat business, which is something you don't often find at a big box store.
Buy online/pick up in store: People still love instant gratification, so buying an item online and picking it up in-store is a good for those who don't want to wait for an Amazon shipment. The big retailers like Toys R Us and Nordstrom offer this service. Many retail POS systems, including pcAmerica's Cash Register Express, offer an e-Commerce integration for any size business at a reasonable cost. Maybe you can't beat the online sites on price but you can match the big box stores on convenience!
If you're interested in learning more about how a retail POS can help your store, call our staff of POS experts at 1-800-722-6374 or visit www.pcamerica.com.
Posted: October 2nd, 2015 under Point of Sale.
Comments: none