Why Labor Scheduling is the Secret Ingredient in Restaurant POS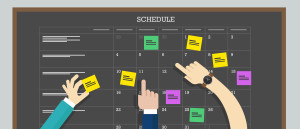 Inventory and payroll are two of the biggest expenditures a restaurant has and it's easy to see why—without food or employees, you can't serve your customers.
Labor scheduling is a built-in function of many restaurant POS systems, including pcAmerica's Restaurant Pro Express. Restaurant Pro Express Version 12.5 (or higher) features a labor scheduler that makes it simple to schedule employees for work. The interface also offers a quick snapshot of how many employees are working as well as what jobs they are performing that day. Job Codes will tell employees what their responsibilities are for that shift. Employees can only select job codes assigned to them, which will help ensure that the right employees are performing the right tasks, at the right time, at the right location.
The software's integrated time clock allows employees to punch in and out of any POS workstation. An ID card or security code helps to eliminate buddy punching so employees cannot clock in or out for each other if they are late, leave early, or take unauthorized breaks.
Supervisors can easily correct or input forgotten time clock entries. The time clock and labor scheduling software also offers comprehensive reporting and makes payroll processing easier.
Labor schedulers are a key ingredient to your restaurant's success. They can help you make informed decisions on how many employees to schedule per shift so you are not caught under or overstaffed.
For example, pcAmerica's Labor Cost Percentage Report was added to help business owners make more informed decisions regarding how much labor to schedule. Finally, you can reduce the amount of time you spend creating schedules, because they can copied from previous weeks so managers don't have to recreate them from scratch and printed for employees.
For more information about the Restaurant Pro Express Labor Scheduling function, please call your pcAmerica representative at 1-800-722-6374 or visit www.pcamerica.com.
Posted: October 2nd, 2015 under Point of Sale.
Comments: none