How Operating a Cash-Only Restaurant is Costing You Sales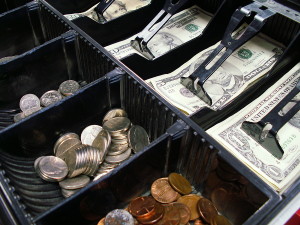 Cash-only restaurants seem like the perfect plan. Don't want to accept plastic? We don't blame you! Cash-only businesses don't pay card processing fees (which could cost two percent of sales, depending on the processor); they receive payments immediately and face limited risk of card fraud or data breaches.
But hang on a second—in theory, cash-only restaurants sound great. But only accepting one form of payment could be costing you more money than all of the above reasons combined. There are many reasons why more than 90 percent of sit-down restaurants accept credit cards. At pcAmerica, we believe it's worth the extra paperwork and effort to accept them and here's why:
People expect to pay with a credit card: We'd be willing to bet that the average person carries less than $20 in cash but at least two credit cards. No one really carries cash anymore because credit cards are so widely accepted for nearly every purchase, no matter how small. Visiting a cash-only restaurant requires some advance planning, including a trip to the ATM, which means fewer walk-in customers. If your restaurant is in an area that sees a lot of foot traffic, you should think carefully about turning away customers who don't have cash on them.
It's harder to upsell items: A credit card provides seemingly endless purchasing power for a consumer. When someone can pay by credit card, they are less price-conscious in stores and restaurants. A customer at a cash-only restaurant may not order a second bottle of wine or an appetizer, knowing they will have to dig deeper into their wallet at the end of the meal.
Remember the two percent processing fee on each transaction? If it really concerns you, one option is to raise the price of menu items a tiny bit to cover the cost of the fees. A slight price increase and the upselling of specialty beverages or desserts will help you boost your profits.
It's secure: And now we're going to state the obvious: cash only means you have a lot of money at your restaurant, especially during peak shifts. It's easier to steal cash then it is to skim credit card numbers, so it makes your establishment a tempting target.
More than 80 percent of the purchases made in restaurants are paid for via credit cards, which is business you could be missing out on if you're operating a cash-only restaurant. For more information about finding a credit card processor or getting started with credit cards, please call pcAmerica at 1-800-722-6374 or visit www.pcamerica.com.
Posted: July 31st, 2015 under Point of Sale, POS, POS System.
Comments: none