Tablet POS Buyer's Guide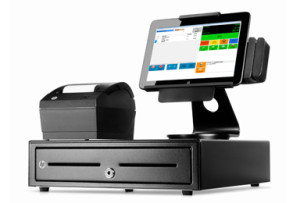 Tablet point-of-sale solutions are cost-effective, space-saving solutions for any business. Right now, we are seeing tablet POS stations used as both a primary POS solution and as complimentary technology to a traditional, full-sized POS setup. Tablets take up less space and cost less to implement, but underneath its glossy and attractive exterior, a tablet POS system may or may not be the best choice for your business. How do you know?
If you are shopping for a new tablet POS, first consider how it will be used. Are you setting up the system at a bar or an area where it could get wet or hot? Will your staff be carrying the tablets? Tablets or iPads left unattended could disappear, so consider purchasing a specialized enclosure to help protect and secure it to a wall or counter.
For people who are accustomed to using a tablet or iPad at home, it's easy to learn and use a tablet-based POS solution. Users literally need to point at what they want they want to select–something they've already learned to do on their Smartphones and other mobile devices. Giving staff technology they are already familiar with means they will be more confident at the checkout and make fewer mistakes. In addition, less points and clicks will help lines move faster.
Tablet POS solutions also differ from a more traditional POS solution in terms of peripherals. If you need a bar code scanner, receipt printer and customer display, be sure to purchase a tablet that has enough ports and can support all of the peripherals you need. If your tablet doesn't happen to have enough ports, the solution is to buy a powered USB hub.
Finally, regardless of whether you choose a traditional POS terminal or a tablet-based solution, be ready for the installation team when they arrive. This means having the area where the system will be set up clear of debris with ample air flow space around the system. A tablet solution will require less space, while a traditional terminal will obviously need more. Be sure that there is power running to the area, internet access (if necessary) and power protection available.
For more information on tablet POS and if it's right for you, please call your pcAmerica sales representative at 1-800-722-6374 or email sales@pcamerica.com.
Posted: March 18th, 2015 under Mobile Point of Sale, Point of Sale, POS System.
Comments: none